Brand-new 40-50 m² apartments
€ 1,920/month Really All inclusive price
(agency fee, bills, wifi, cleaning & taxes)
Viale Giovanni da Cermenate, 56A, 20141 Milano MI, Italia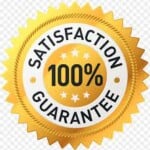 Flat Type
- Loft & Studio, 1 Bedroom
Apartment Description
Brand-new apartments 10 minutes walk from Bocconi – Brand new, ready from November 2023 ✨
A landlord is building 8 apartments (1 BR apartments and studio apartments).
Each of them will have its own small private garden, they are on the ground floor, facing the inner courtyard.
The construction has the best quality (electricity and water systems, walls materials…) and energy performances (floor heating, AC, very good quality windows/doors).
4 of the apartments are on sale, 4 other will be rented, mainly to international students.
In the floor plan you can see how they will be furnished, the style will be modern and functional.
The kitchen will have induction plates, the apartments will be provided by washing machine/dryer, TV, AC and high speed internet connection.
They will be fully furnished and equipped, everything will be brand-new and yo could be the first renter! 🤩
Security deposit of € 1600.
Area description
Between Bocconi and Navigli area, 30 minutes from the center (Piazza Duomo) directly by tram.
Bocconi New Campus is just 10 minutes walking.
You can easily reach by public transports the main universities: NABA, Cattolica and Marangoni.
It's a safe residential area, close to the main public transports, walking distance you can find every kind of shops and service. Restaurants, bars, art galleries, gyms.
Video Tour of Brand-new apartments in Milan
June 2023:

May 2023:

All video reviews about Rental Milan apartments rent & services
Standard Amenities In all the apartments
Amenities

 

 

NO

* Sheets & Blankets
* Towels
* Cleaning monthly
* Wifi Internet
* Washing Machine
* Ironing Tools
* Vacuum Cleaner
* Hair Dryer
* Refrigerator & Freezer
* Gas or Electric Hob
* Oven or Microwave
* Kettle & Kitchenware
* Min. rent 90 days
* No Children
* No Smoking
* No Pets
Extra Features
Amenities
Air Conditioning
Dishwasher
Double Sofa Bed
Fast Wifi
Microwave
Terrace
Tumble Dryer
1

2

3

4

5

6

7

8

9

10

11

12

13

14

15

16

17

18

19

20

21

22

23

24

25

26

27

28

29

30

31
1

2

3

4

5

6

7

8

9

10

11

12

13

14

15

16

17

18

19

20

21

22

23

24

25

26

27

28

29

30

31